This is an archived article and the information in the article may be outdated. Please look at the time stamp on the story to see when it was last updated.
CARLSBAD, Calif — When most people run an Ironman Triathlon, they just hope to finish. Not Susanne Davis. The Carlsbad woman wanted to win badly, and she finally did.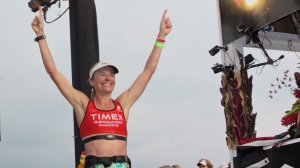 "If I could have one wish for everyone, it would be to experience the finish line of the Ironman in Kona," Davis said. "The screaming fans, the banging of the drums, and Mike Reily screaming out, 'Here comes Susanne Davis. You are the Ironman World Champion.' It's just unbelievable."
Davis had the chance to experience that very moment on October 12th when she won the 40-44 women's age group at the World Championships in Kona, Hawaii.
She covered the 140.6-mile course in nine hours, 41 minutes and 40 seconds setting an amateur record for any woman over the age of 35.
While holding her Championship medal, the 42 year-old recalled her first exposure to the Ironman World Championships.
"I did go watch the Ironman once my senior year in college," she said. "And I thought it was crazy. I thought, 'Who would ever want to suffer and go through this kind of race?'"
Turns out Davis not only enjoyed the suffering, but embraced it.
She has run in the World Championships four times, finishing third, second, second and first in her age group and set two race records.
Remarkable considering she started competing in Ironmans just eight years ago.
"I did my first Ironman in 2005 really just to lose weight after having my first child," Davis said. "I started to coaching to get out of (my sales job) to be home with my children."
Now, the mother of two balances raising her 9 year-old son and 5 year-old daughter with her own training all the while coaching other triathletes to reach their full potential.
"She's inspirational," said triathlete Angela Hart of Carlsbad. "She changes things up and makes things really interesting and she holds you accountable. You can see the performance increase and the enhancement every single time I get out there and do a race."
"Inspirational, that's a good word," said triathlete Dan Dague of Carlsbad. "She's an inspiration to all of us. And even though we don't race at her level, to watch what she does and understand that she still has the same work and family balance she has to work with and know that she can go out and be a world champion, gives us all hope and inspiration that we can get out there and maybe finish an Ironman."
And maybe, become a world champion like Davis who says: "Being a world champion is awesome."