This is an archived article and the information in the article may be outdated. Please look at the time stamp on the story to see when it was last updated.
CARLSBAD, Calif. – The court battle between two Pennsylvania girls and their school district over the "I (Heart) Boobies!" bracelets produced in Carlsbad, could be going to U.S. Supreme court.
The bracelets were created by a Carlsbad non-profit organization called Keep A Breast Foundation. The creators never imagined that their awareness bracelets would create a national controversy.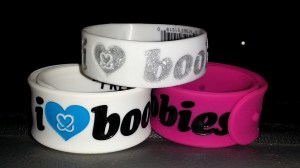 "Our 'I love boobies' bracelets were developed as a fun conversation starter for young people," said Greg Goodfellow, executive director of Keep A Breast Foundation.
In 2010, two Pennsylvania middle school girls were suspended for wearing the bracelets at school. The Easton School District said the bracelets were immature, inappropriate and hyper-sexualized.
"We just feel this specific bracelet is disrespectful in general and kind of tacky," said an Easton School District board member in 2010.
On Tuesday, the Easton School District board members voted 7-1 to appeal a federal court's decision that said the bracelets were protected speech under the 1st Amendment. The vote could send the case to the U.S. Supreme Court.
"I absolutely respect the position of the Easton School Board," said Goodfellow, but adding it was never their intention to ignite a 1st Amendment fight.
He said the irony is that the non-profit and the school board both have the same mission – education.
"I simply don't believe we are at odds with the school district to the degree that they think we are," said Goodfellow.
For more than a decade, the non-profit said it has been exposing the difficult subject matter in a relatable, catchy way.  Instead of fighting in a battle of the bracelets, Goodfellow hopes to partner with the school board without all the litigation.
"I think more good can come out of this than bad and I think we can do something together," said Goodfellow. "And a lot of the energy and expenditure of time that's going into this, can be used to create an amazing program at the school, whereby kids are learning and talking about breast cancer. "
San Diego Unified School District said they do not have a district wide policy regarding the bracelets. Instead, they leave it to the discretion of the principal at each school.