This is an archived article and the information in the article may be outdated. Please look at the time stamp on the story to see when it was last updated.
CARLSBAD, Calif. – A Carlsbad letter carrier is hanging up his mailbag after 58 years of service.
Mack Mata Jr. is the longest serving carrier in Carlsbad, having worked at the Carlsbad Post Office his entire career and for every Postmaster the city has had.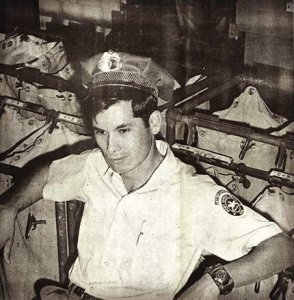 It all started in the fall of 1960. Mata and his fiancée were in downtown Carlsbad when she spotted a "help wanted" sign in the post office window. Mata applied, interviewed and took the postal exam beside 200 other applicants at Oceanside High School.
He was sworn in as a part-time postal employee that November.
Throughout his years as a mailman, Mata has become part of the families he has serviced. He has watched children grow up and move away, only to return and become his customers once again. He was even presented with a certificate for his heroism for helping an older customer on his route who he always made a point to check on.
"One day, something told me I should check on her and sure enough, I found her lying on the ground after she had fallen and couldn't get up," Mata said. "She said, 'I knew you'd eventually show up to help me.'"
Mata says a lot has changed over the course of nearly six decades. When he started, stamps cost 4 cents. He made special deliveries on a bicycle equipped with a basket. The Postal Service didn't start using zip codes until 1963.
But he says the biggest change he's seen is how much Carlsbad has grown. When Mata started, there were six mail routes and one auxiliary route in his office. Today, the office has 70 city routes, four rural routes and one highway contract route.
"Sears and Penny's were the big businesses back then and it took awhile to get anything," he said. "Now there's Amazon and next-day delivery and package volume has picked up like crazy."
Mata was offered the chance to become a supervisor earlier in his career but turned it down.
"I was 20 years old," he said. "All of the guys I worked with were considerably older and I wouldn't have felt right about telling them what to do. Now I'm the old geezer, a dinosaur so to speak, who still uses the mail instead of the Internet. But I still love what I do. My career has been very fulfilling."
In the next chapter of his life, Mata looks forward to gardening and traveling with his wife Sheila. But he says he won't be sleeping in. He still plans to wake up early, around 4 a.m.
"My body is like a clock," he said. "I don't even need an alarm to wake up."
Mata will be recognized by Postmaster Cindy Gibson at 8:30 a.m. Friday at the Carlsbad Post Office.
"It's not often we celebrate an employee who has served the Postal Service for 58 years," Gibson said. "That's why we are taking a moment of time to honor a man who has given a large portion of his life – his hard work and dedication – to this organization. We want to congratulate and thank him for sharing those years with us at the Postal Service."