This is an archived article and the information in the article may be outdated. Please look at the time stamp on the story to see when it was last updated.
CARLSBAD, Calif. – Carlsbad police asked Thursday for anyone who hired a babysitter that — along with her boyfriend — has been accused of the sexual assaults of two 7-year-old girls, to come forward because investigators believe there are additional victims.
Brittney Mae Lyon advertised her babysitting services on care.com, sitter.com and sittercity.com prior to her arrest July 6, 2016, on suspicion of eight counts of lewd and lascivious acts on children, according to Carlsbad police.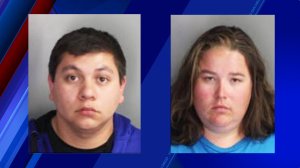 Lyon, 23, is suspected of videotaping as her boyfriend, Samuel Cabrera Jr., also 23, allegedly molested two girls she was babysitting on multiple occasions over several months.
Lyon and Cabrera, who faces the same charges, are each jailed on $2.6 million bail. Both are due in court for a readiness conference June 13.
Investigators believe there may be more alleged victims in the case, who may be as far away as San Bernardino, Riverside and Los Angeles.
"Upon reviewing evidence, we now believe it is more than the two victims," said Captain Mickey Williams.  "We're not revealing the evidence, because we do not want to taint the account of anyone that may be involved with the situation.  We are investigating further.  As far as how many victims, I can't tell at this time."
Anyone who had used Lyon as a babysitter or knows someone who did was asked to call Carlsbad police Detective Steve Stallman at 760-931-2293.
[UPDATE: A previous version of this story stated that Lyon used an alias "Lauren Allen" with pictures. Carlsbad Police Department later issued an apology for stating the wrong suspect's name and releasing the wrong pictures.
"We would like to formally apologize to Lauren Allen, her family and friends.  In a media release today we listed Lauren's name and photo as the alias used by the suspect, Brittney Lyon.  We want to state unequivocally that Lauren Allen herself is in no way a suspect in this case.  We are sorry to cause concern or to associate Lauren's name with this type of criminal behavior.  We made a mistake by not thoroughly vetting the investigative information before we released it to the public.  We removed the photos. We personally reached out to Lauren to apologize and are conducting an internal investigation to ensure this does not happen again."
Care.com issued the following statement Thursday night:
"This incident is very troubling to us, and our thoughts are with any impacted family.  Care.com can confirm that it has followed its account closure practices in relation to this matter, and that it has and will continue, if needed to cooperate with law enforcement.  As this is an active investigation, we will not comment further."