This is an archived article and the information in the article may be outdated. Please look at the time stamp on the story to see when it was last updated.
SAN DIEGO — San Diego Catholics were closely watching for any new developments out of the Vatican Tuesday as 115 cardinals begin the super-secret conclave to choose a new leader for the 1.2 billion church members around the world.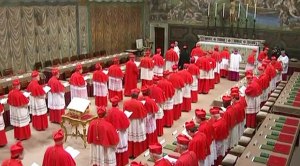 "This is an opportunity for the church to move forward in a really new direction with new vision," said Mona Feliz after attending mass at Mission Basilica San Diego de Alcala.
There has been speculation about the possibility of a first-ever American pope.  But there doesn't appear to be a frontrunner.
Catholics hope, whoever the new leader is, he'll be ready to take over a church in crisis.
"The problems the church has had with the priests – the financial problems they were having in Rome – those things need to be addressed.  They can't be swept underneath the carpet," said Feliz.
The cardinals will be closed off from the outside world as they meet and take a vow of secrecy before each round of voting.
Black smoke from the Sistine Chapel chimney means no pope.  White smoke means the church has its 266th pope.
"I personally hope for a quick result.  To me, that would show unity – this is the guy we want," said church member Sean Jagers.
The conclave will end when a cardinal receives at least 77 of 115 possible votes.