This is an archived article and the information in the article may be outdated. Please look at the time stamp on the story to see when it was last updated.
SAN DIEGO – A car crash sent a geyser of water shooting into the air in Oak Park Sunday evening.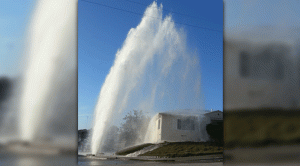 A car hit a fire hydrant at the corner of 55th and Laurel Streets around 6:30 p.m., San Diego Fire-Rescue Department said.  It was unknown what caused the driver to crash.
The water was shut off within 30 minutes and the streets reopened to traffic an hour later.
No injuries were reported from the crash.