This is an archived article and the information in the article may be outdated. Please look at the time stamp on the story to see when it was last updated.
SAN DIEGO – Car parts found in a swollen river near Fresno may belong to a missing San Diego couple. And in a bizarre twist, evidence has led authorities to search for the couple in the same area where two exchange students' bodies are still stuck in a car that crashed into a river in late July.
Yinan Wang, 31, and his 30-year-old wife, Jie Song, were last seen around 2 p.m. at Crystal Caves in Sequoia National Park on August 6.
The couple had planned to stay the night in Fresno before driving to Yosemite National Park and then returning to San Diego on August 9, according to the Fresno County Sheriff.
Wang and Song, who were reported missing by family members on Friday, were last seen driving a 2012 white Ford Focus with a California license plate of 6XMM431.
A deputy watching news coverage on the recovery of an unrelated car crash involving a red car in the Kings River noticed a license plate in the brush that read 6XMM431.
The deputy knew it did not belong to the red car in the river, which is believed to have been carrying two University of South Florida exchange students from Thailand.
A records check showed the plate belonged to a 2012 Ford Focus.
The sheriff's office passed along its information about the license plate to the California Highway Patrol, but its significance wasn't realized until three days later when Wang and Song were reported missing.
On Saturday, the Sheriff's Office and CHP flew their helicopters above the canyon where the red car remains in the river to see if there are any signs of a white car.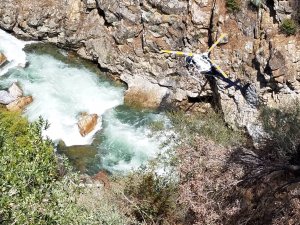 Some vehicle parts were located in the water about 40 yards upstream from the red car, but no bodies were found. Authorities said they are not yet able to determine if the parts belong to the white Ford Focus.
The sheriff's office is now conducting a "parallel investigation involving the Ford Focus" as they continue to develop a plan to retrieve the red car and bodies that are assumed to be inside.
Rangers and deputies continue to search for Wang and Song.
Anyone with information is asked to contact the Sheriff's Office at 559-600-3111.