This is an archived article and the information in the article may be outdated. Please look at the time stamp on the story to see when it was last updated.
SAN DIEGO — A 64-year-old woman suffered a serious arm injury Saturday in San Diego's Marina area when she was struck by a car whose driver tried to get away from Comic-con zombie walkers who surrounded and pounded on the vehicle, even breaking its windshield.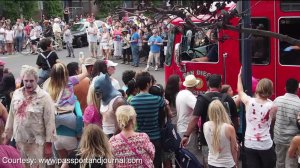 The 48-year-old man and his family, who police said were deaf, were stopped at the intersection of Second and Island avenues around 5:35 p.m., waiting for the zombie walk to pass, said San Diego police Officer David Stafford.
After waiting several minutes for the costumed walkers to pass, the man slowly rolled the car forward in an attempt to get out of the area, Stafford said.
"His children were afraid of the large crowd," Stafford said, adding that several of the walkers climbed onto the car and beat on it as other walkers surrounded the vehicle and joined in pounding on it.
"The car windshield was shattered by the crowd. The family was scared so the father drove forward again trying to get away from the angry crowd," Stafford said.
The side of the car struck the woman, who fell under the vehicle, he said.
"The crowd then chased the car … as the family drove toward a police officer down the street," Stafford said.
The driver stopped when he reached the officer, he said.
The injured woman was taken to a hospital for treatment of non-life- threatening injuries, Stafford said.
"Most likely he will not face any charges," Stafford said.
The crash was being investigated by the SDPD's Traffic Division, he said.