This is an archived article and the information in the article may be outdated. Please look at the time stamp on the story to see when it was last updated.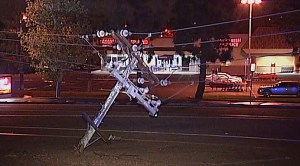 VISTA, Calif. — A suspected drunken driver crashed into a power pole in Vista early Tuesday, knocking out electrical service to more than 2,500 San Diego Gas & Electric customers, authorities said.
The driver was headed east on West Vista Way at a high rate of speed and slammed into the electrical pole at the intersection with Emerald Drive around 1:15 a.m., according to the San Diego County Sheriff's Department.
The crash caused the power lines "to dangle dangerously low across the intersection," sheriff's Sgt. Debbie Eglin said. The vehicle then continued across the intersection and struck another pole, she said.
California Highway Patrol officers who were in the area spotted the driver as he got out of the wrecked vehicle and attempted to run away, Eglin said, adding they detained him. His name was not immediately available.
The driver was taken to Palomar Medical Center to be treated for unknown injuries. Eglin said that while en route to the hospital, the suspect became combative and spit on an accompanying sheriff's deputy.
At the same time as the crash, about 2,560 homes, businesses and other utility customers in Vista, Oceanside, Ocean Hills and San Luis Rey lost power, according to Eglin and SDG&E. By about 7:45 a.m., the utility's website showed nine customers were still without power.
Utility officials determined that a vehicle had caused a problem in the electrical system.
Service is expected to be restored to the remaining customers by 4 p.m., according to SDG&E.
The intersection was temporarily closed because of the downed power lines, Eglin said.