This is an archived article and the information in the article may be outdated. Please look at the time stamp on the story to see when it was last updated.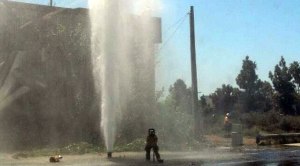 SAN DIEGO — A car knocked over a fire hydrant Wednesday, sending a geyser of water about 50 feet in the air.
The accident happened at about 1 p.m. at the Frost Lumber Company on Miramar Road at Frost Place, just north of the Miramar Marine air base.
The water gushed skyward for about an hour until a crew from the Water Department arrived at about 2 p.m.
No injuries were reported.