This is an archived article and the information in the article may be outdated. Please look at the time stamp on the story to see when it was last updated.
SAN DIEGO — A man drove a car off a cliff in Ocean Beach Sunday and was airlifted to a hospital, a fire official said.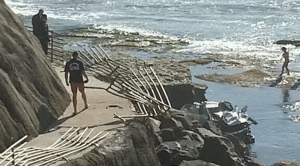 The car went off the end of Orchard Street near Cable Street about 3:20 p.m., according to the San Diego Fire-Rescue Department.
"I was looking at the water, when I heard what I thought was an explosion.  When I looked up a car was sailing over my head and over those rocks," said Crystal Louden. "I still can't believe a car can be that aerodynamic."
Surfers tried to assist the driver, but were unable to, so a helicopter was dispatched to hoist the driver out, a fire dispatcher said.
The driver was then flown to a hospital, the dispatcher said. There was no word on the condition of the driver.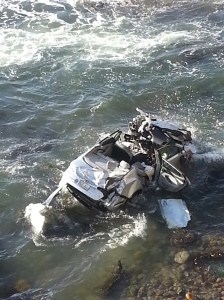 "It's my understanding he was actually resisting help, so he's doing well enough to at least do that," Lt. Phillips said. "We're not certain it's an accident. We're actually looking at this as a potential suicide."
"I'm really surprised that people didn't get hurt. The poles were all really mangled and twisted," said Andrew Clark, a beachgoer. "He didn't hit the rocks underneath it, he didn't hit the water first, he hit the walkway where people walk their dogs, kids, surfers, all kinds of people walk up there. And there are three sections that are just destroyed."
"I'm quite surprised not more damage was done both to property, but also much more importantly to the people. I'm surprised there wasn't more family down walking up this is like a blind turn," SDPD Lt. Paul Phillips said.
Heli rescue at Sunset Cliffs. #oceanbeach #sandiego pic.twitter.com/UMwwD0I5T2

— Sophia Habl Mitchell (@SophiaHMitchell) March 16, 2014