This is an archived article and the information in the article may be outdated. Please look at the time stamp on the story to see when it was last updated.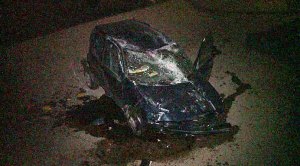 SAN DIEGO — A suspected drunken driver was injured early Tuesday when he sped off the end of a freeway and crashed in a skate park in Ocean Beach.
The accident happened at about 3 a.m. at the end of Interstate 8 at the intersection with Sunset Cliffs Boulevard. San Diego police Lt. David Rohowits said the 62-year-old driver was driving under the influence and lost control at the end of the freeway.
"What the investigation has revealed is that this gentleman was driving westbound at the far end of Interstate 8 right near Sunset Cliffs, and at that particular intersection, all the drivers have to go to the left. However it appears that instead of going left, the driver went straight and vaulted over a Jersey wall over two approximately 6-foot-high fences and then came to rest at the bottom of the skate park pool," Rohowits said.
The man's injuries were not thought to be life-threatening.
A dog was also in the car, but it was not injured. The dog became aggressive when rescuers tried to help the man, police said.
The driver will be charged with driving under the influence, police said.