This is an archived article and the information in the article may be outdated. Please look at the time stamp on the story to see when it was last updated.
SANTEE, Calif. — Six storage units burned near Gillespie Field Monday after a car fire spread to the building, fire officials said.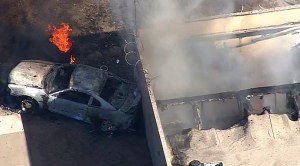 The fire began sometime before 2 p.m. after a car crashed into a transformer near the intersection of Graves Avenue and Pepper Drive, Heartland Fire & Rescue spokeswoman Monica Zech said.
By the time firefighters arrived, the car was fully engulfed in flames and the fire had spread to the adjacent storage building. The flame burned through roof of the storage unit.
"There was a lot of gray smoke coming up at the corner of the wall where the storage unit is," said Pete Petersen who witness the flames.
Firefighters had to wait for San Diego Gas and Electric to arrive to shut off the electricity before they could battle the blaze.
"Since the power was on I kept moving back," said Ronald Gibb, who lives near the storage building.  "I thought the whole building was going to blow up."
It took crews just over an hour to gain control of the tow-alarm fire.  No injuries were reported.