This is an archived article and the information in the article may be outdated. Please look at the time stamp on the story to see when it was last updated.
SAN DIEGO — A fire in a small urban canyon briefly threatened more than a dozen homes in City Heights Wednesday afternoon causing residents to be evacuated.
The fire was reported at about 1:30 p.m. in a canyon west of 3800 block of 49th Street and south of University Avenue in a densely populated neighborhood. Fire crews deployed around the edges of the canyon and poured water down  on the flames climbing up towards homes as a fire department helicopter dumped loads of water on the fire from above.
By 2:20 p.m., crews had contained the blaze to the canyon and were dousing hot spots with hoses.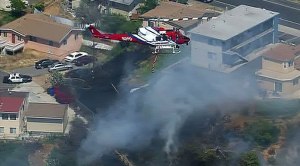 There were no reports of damage to buildings, but the fire came within a few feet of several homes and cars. Less than two acres were blackened.  No one was injured.
The cause of the fire was under investigation.