This is an archived article and the information in the article may be outdated. Please look at the time stamp on the story to see when it was last updated.
SAN DIEGO — Firefighters prevented a quick-burning canyon fire from burning more than a dozen homes in Paradise Hills Tuesday, but a backyard shed was damaged by the flames, fire officials said.
The fire broke out behind Bell Junior High School near Paradise Valley and Briarwood roads after 1 p.m.
Witnesses said kids were playing with matches prior to the fire starting, according to San Diego Fire-Rescue Department spokesman Maurice Luque.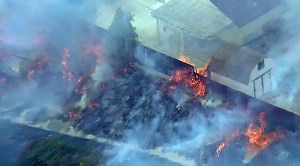 Firefighters set up protective positions behind the school and across the canyon as the fire spread towards homes lining the canyon rim. At one point, a backyard fence and shed caught fire, but a San Diego Fire Department helicopter doused the shed with water from above.
The fire blackened a couple of acres in the canyon, but firefighters had it under control by 1:45 p.m.
No injuries were reported.
Anyone with information about the fire should contact SDFD.