This is an archived article and the information in the article may be outdated. Please look at the time stamp on the story to see when it was last updated.
SAN DIEGO – The mother of Salvador Hernandez tearfully hung a sign with a picture of her Saturday just feet away from where he was killed five years ago in Oak Park.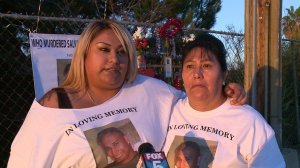 "We need the public to come forward, because if they were in our shoes, believe me, they would want answers, too," said his mother Cathy Hernandez.
In the early morning hours of February 16, 2008, 26-year-old Hernandez and a 19-year-old woman were sitting in a parked car on Seifert Street when someone pulled up in a light-colored pickup truck and started shooting.  The woman was hit and survived, but Hernandez died.
Hernandez's murdered remained unsolved Saturday and there were no known suspects and unknown motive.
On Saturday, family and loved ones attended evening mass at a church.  Later, a group of about 50 people returned to the memorial for a candlelight vigil.
"Each day we have to live with this burden.  Not a day goes by that we don't think about him," said his sister Maria Guillen.
Holding signs and wearing shirts with Hernandez's picture, they walked around the block to remind neighbors about the unsolved murder.
The parents held Salvador's 7-year-old son in hopes they will eventually find a measure of peace.
"[We're] trying to keep the family together – and it's hard," said Salvador Hernandez Sr.