This is an archived article and the information in the article may be outdated. Please look at the time stamp on the story to see when it was last updated.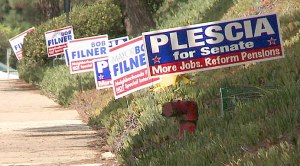 SAN DIEGO — As ballots were counted and candidates wrapped up their campaigns Wednesday, San Diego environmental officials called on residents to reuse or recycle their mailers and signs.
"Recyclable paper and cardboard continues to be a large percentage of all waste buried in the Miramar Landfill," Chris Gonaver, director of the Environmental Services Department said. "The city reminds residents that our curbside recycling program is easy and convenient, plus it helps extend the life of our landfills."
Paper mailers and signs can be placed in the blue recycling bins. Used campaign signs can be re-purposed for yard sale signs or could be held on to for the next election, according to city officials.
Unpainted wooden stakes, if not reused, can go in a yard waste bin. Metal stakes and sign frames can be recycled at the Miramar Recycling Center at 5165 Convoy St.
More information on recycling can be found at RecyclingWorks.com or by calling the Environmental Services Department at 858-694-7000.