This is an archived article and the information in the article may be outdated. Please look at the time stamp on the story to see when it was last updated.
OCEANSIDE, Calif. – An Oceanside mother said she was shocked when she found out she was in the running to be "Military Spouse of the Year."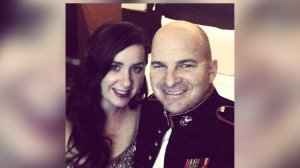 As a mother of two and wife of Marine Corps Major Ross Schellhaas, who is stationed at Camp Pendleton, Kristine Schellhaas's shock deepened when she found it that her mother didn't submit the nomination.
"I couldn't believe it, I thought it was my mom that nominated me, because that seems like something she would do, but a lot of people who view my website have been reaching out and saying 'thanks,'" she said.
Schellhaas has experienced four deployments during her 10 years as a military wife, and is sharing her knowledge with other spouses worldwide.
She created her own website three years ago to connect military spouses through the internet and give them advice on anything from moving to coping with deployments.
Her most recent endeavors include her weekly podcast called "Semper Fiesty" which she broadcasts from her mini-studio, which she humbly admits is in the corner of her laundry room.
"We talk about some of the issues our friends have experienced with military life and get into the more serious issues of health care and PTSD," she said.
There will be one day to vote for "Military Spouse of the Year" and it's on March 5. The list of nominees has been posted online.