This is an archived article and the information in the article may be outdated. Please look at the time stamp on the story to see when it was last updated.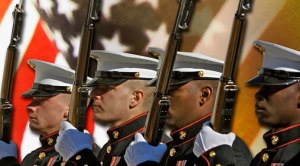 CAMP PENDLETON, Calif. — The mother of a Marine killed in Afghanistan was presented Thursday with his Silver Star for combat bravery, awarded posthumously.
Cindy Easterling received the medal on behalf of her son, Sgt. Wade Wilson, who was killed in a firefight May 11, 2012 in the Musa Qa'leh district of Helmand province, a Taliban stronghold.
When Marines were attacked by an insurgent wielding an AK-47, Wilson "immediately drew his M9 pistol and, leaving the safety of his armored vehicle, fearlessly closed with the insurgent," according to the Silver Star citation signed by Marine Commandant Gen. James Amos.
Wounded several times, Wilson continued to advance on the insurgent, forcing him to flee toward other Marines, who "subsequently engaged and killed him before he could inflict additional casualties." Wilson died from his wounds.
Wilson, 22, from Centerville, Texas, died from his wounds. He was assigned to the 2nd Battalion, 5th Marine Regiment. He was on his third combat deployment.