This is an archived article and the information in the article may be outdated. Please look at the time stamp on the story to see when it was last updated.
CAMP PENDLETON, Calif. — Firefighters continued making progress Sunday containing three fires that have blackened 21,900 acres on Camp Pendleton and Naval Weapons Station Fallbrook.
The largest of the fires, the fast-moving Las Pulgas Fire, had burned about 15,000 acres since it erupted for unknown reasons at about 3:15 p.m. on Thursday near a sewage plant in Camp Las Pulgas. The blaze was 75 percent contained Sunday afternoon, according to officials.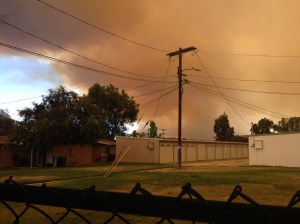 The first fire reported, the so-called Tomahawk Fire, broke out at Naval Weapons Station Fallbrook at the eastern outskirts of Camp Pendleton at about 9:45 a.m. on Wednesday and later spread to the Marine base. It was 100 percent contained Sunday and had blackened about 5,400 acres.
The most recent blaze to break out at Camp Pendleton, dubbed the San Mateo Fire, began spreading just before 11:30 a.m. on Friday near Basilone Road. It had grown to about 1,500 acres today and was 97 percent contained, according to base officials.
Gen. James F. Amos, the Commandant of the Marine Corps, and Brig. Gen. John W. Bullard, the Marine Corps Installations West commanding general, were briefed today on the three fires — known collectively as the Basilone Complex – – at Camp Pendleton. Amos and Sgt. Maj. Michael P. Barrett, sergeant major of the Marine Corps, also spoke with firefighters working to extinguish the blazes.
Officials estimated that the fires have blackened almost 18 percent of the sprawling Marine base.
The fires forced the evacuation of numerous residents and personnel from Camp Pendleton and Naval Weapons Station Fallbrook, but the order was rescinded on Saturday night. Orders for personnel to return to their assigned areas will be at the discretion of area commanders.
The Fallbrook Navy facility, which initially lost power, and its gate are expected to reopen at midnight. Ammunition Road is also expected to reopen Monday morning.
The Las Pulgas and Christianitos gates on Camp Pendleton were reopened Sunday, as was Las Pulgas Road, authorities said.
Child Development Centers will open Monday, base officials said. Parents were advised to contact their children's schools regarding specific closure information.
Marine aircraft on Saturday delivered more than 65,000 gallons of water to the three fires using nine UH-1 Y Venom/Super Hueys and eight CH-46E Sea Knight helicopters with 325-gallon capacity buckets, five CH-53E Super Stallions with 900-gallon buckets and two KC-130J Hercules, according to the 3rd Marine Aircraft Wing.
The 3rd Marine Aircraft Wing dropped more then 540,000 gallons of water while assisting with the suppression efforts of the several fires that broke out in San Diego County last week, authorities said.
The causes of the fires are under investigation.