This is an archived article and the information in the article may be outdated. Please look at the time stamp on the story to see when it was last updated.
(CNN) — A federal judge in California ruled Wednesday that the state's death penalty is unconstitutional.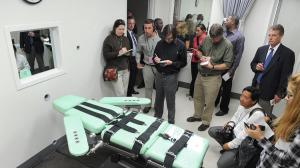 Judge Cormac J. Carney of the U.S. District Court for the Central District of California in Orange County vacated the 1995 death sentence of Ernest D. Jones.
He wrote: "Allowing this system to continue to threaten Mr. Jones with the slight possibility of death, almost a generation after he was first sentenced, violates the Eighth Amendment's prohibition against cruel and unusual punishment. "
Carney called the administration of the state's death penalty system "dysfunctional."
Since 1978, more than 900 people in the state have been sentenced to death row, where inmates spend 23 hours alone in their cells. Of those people only 13 have been executed; 94 have died of other causes. Carney said about 40% have been on death row longer than 19 years.
California put a moratorium on the death penalty in 2006 and hasn't executed anyone since. There are 748 people on death row.
Carney wrote that the system is one "in which arbitrary factors, rather than legitimate ones like the nature of the crime or the date of the death sentence, determine whether an individual will actually be executed."
The case is expected to be appealed by prosecutors to the U.S. Court of Appeals for the Ninth Circuit, said CNN legal analyst Mark Geragos.
The California Supreme Court in 2003 upheld the conviction of Jones on first-degree murder and rape charges.