This is an archived article and the information in the article may be outdated. Please look at the time stamp on the story to see when it was last updated.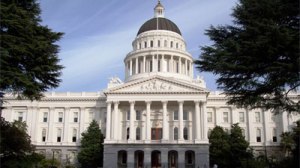 California Republicans will gather in the Bay Area this weekend to discuss efforts to rebuild their beleaguered state party, hear from a collection of national speakers and be courted by GOP candidates who hope to take on Democratic Gov. Jerry Brown in the fall.
The politicking between Assemblyman Tim Donnelly and former U.S. Treasury official Neel Kashkari will be closely watched as they court voters over the three-day meeting in Burlingame, address the convention on Sunday and host parties for delegates Saturday night.
Donnelly's bash, billed as the "2014 Liberty Extravaganza," will feature remarks — and possibly a song — by actress Maria Conchita Alonso, who starred in an online video for the Donnelly campaign.
About 1,000 delegates and guests are expected to attend the semiannual convention, which comes at a critical time for the party. The GOP's share of voter registration in California has fallen to a historic low of less than 29%. No Republican has been elected to statewide office since 2006, and many are skeptical about the chance that it could happen this year.
One victory that will be celebrated at a reception Friday and analyzed during a workshop Saturday is the San Diego mayoral win earlier this year by Kevin Faulconer. He was elected in the wake of a sexual misconduct scandal that drove Democrat Bob Filner from the office.