This is an archived article and the information in the article may be outdated. Please look at the time stamp on the story to see when it was last updated.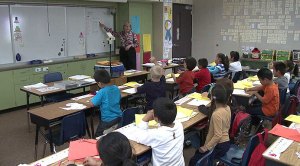 California is sorely lacking when it comes to school reform, according to a rating of states issued by a high-profile education advocacy group.
California received an overall grade of F, ranking 41st nationally, from StudentsFirst, a Sacramento-based group run by Michelle Rhee, whose outspoken views have polarized those who  share her focus on improving the nation's schools.
Her group's "report card" concentrates "singularly on the education policies in place in each of our states," Rhee said in a statement. "And when we look solely at policy, it's clear that we have a long way to go toward improving our education system in America."
Among other recommendations, the report said California's students would benefit from a statewide teacher and principal evaluation system that incorporates "student growth" as a significant factor.
Such "value-added" formulas attempt to measure a teacher's impact on a student's learning through standardized test scores that are adjusted for a student's past performance and personal characteristics. Some experts and teacher unions are skeptical of the method, and those critics have had allies in Gov. Jerry Brown and state Supt. of Public Instruction Tom Torlakson.