This is an archived article and the information in the article may be outdated. Please look at the time stamp on the story to see when it was last updated.
ELMONT, NY – It's going to take two to three weeks for thoroughbred California Chrome to heal from a nasty injury to his hoof, his trainer Art Sherman said Sunday.
"He's got a lot of talent," Sherman said of the colt that was the favorite for the Belmont Stakes but was denied his shot at becoming the first Triple Crown in 36 years. Tonalist was victorious Saturday at the storied race in Elmont, New York. California Chrome finished in a dead heat for fourth with Wicked Strong.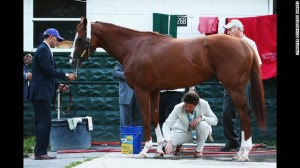 Sherman said the colt's injury occurred during "the first jump."
"He just needs a little time off," Sherman said, explaining that the injury is "superficial" and not "deep." Sherman assured that California Chrome will not be in any pain as his injury is treated in part with a special bandage, and his recuperation will involve some "pasture time."
As to what went wrong for a horse who many thought would win Saturday, Sherman alluded to the amount of racing California Chrome did leading up to the Belmont Stakes.