This is an archived article and the information in the article may be outdated. Please look at the time stamp on the story to see when it was last updated.
SAN DIEGO — A San Diego assemblywoman said Wednesday that California's Legislative Black Caucus is urging a boycott of Florida because of the acquittal of George Zimmerman, who was accused of fatally shooting an unarmed black teen.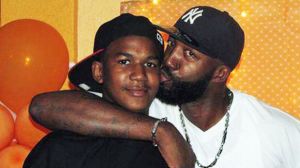 Speaking in front of the San Diego Hall of Justice, backed by signs saying "Justice for Trayvon Martin," Assemblywoman Shirley Weber, D-San Diego, said black caucus members want to send a message to the state of Florida.
"We can see a nationwide boycott of Florida as a reasonable reaction to the injustice we feel as Americans, when an innocent teen on his way home is trailed, apprehended and gunned down by an armed security guard in a housing development — and then found by a trial jury to be not guilty of second-degree murder," Weber said.
"It should be a long time before any of us ever feel remotely comfortable considering Florida as a destination for business or pleasure," Weber said.
The assemblywoman said she has been contacting black organizations that had plans to meet in Florida over the next year and asking them to withdraw.
The National Association for the Advancement of Colored People met this week in Orlando, about 30 miles from Sanford, Fla., where the 17-year-old Martin was killed.
Zimmerman followed the youngster as Martin walked toward a residence in the development on Feb. 26, 2012, and shot him during a physical struggle.
The incident ignited debate over racism, vigilantism, self-defense and a "stand your ground" law in Florida that was harshly criticized by speakers at Weber's news conference.
Martin's parents are considering filing a civil lawsuit against Zimmerman, and the U.S. Justice Department is looking into possible civil rights violations.
Assembly Majority Leader Toni Atkins, D-San Diego, said it was important to focus on the future.
"How do we prevent more senseless gun violence?" Atkins asked. "How do we challenge unjust laws? How do we ensure that equality isn't just an ideal in our society, but an actual daily practice?"