This is an archived article and the information in the article may be outdated. Please look at the time stamp on the story to see when it was last updated.
RAMONA, Calif. — The high winds and dry conditions have placed the Ramona Air Attack base on high alert. The facility is home to Cal Fire air crews that are on stand by and ready to go at a moment's notice.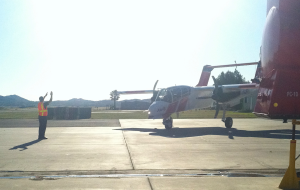 The Ramona facility has three aircraft that can respond just about anywhere in San Diego County within 15 minutes. Cal Fire air crews work in conjunction with the San Diego County Sheriff's Department, U.S. Forest Service and Bureau of Land Management.
"To be 95 degrees with 40 mile per our winds out of the east in April is unheard of, all our pilots are on stand by, planes have retardant in them, just everything is locked and loaded," said Capt. Tim Stepanovich of Cal Fire.
Overall, there are 23 Cal Fire retardant-dropping tankers scattered throughout California. The aircraft can be moved should a major fire ignite anywhere in the state.