This is an archived article and the information in the article may be outdated. Please look at the time stamp on the story to see when it was last updated.
EL CAJON – Cal Fire headquarters in San Diego County is saying farewell to local media's popular fire spokesperson, Public Information Officer Captain Kendal Bortisser.
Kendal tells Fox 5, "It's crucial to get the right information out to the media right away.  Whether it is 3 o'clock in the morning or out in the field on a major priority incident, we are always available to the media to get the word out."
Captain Bortisser has been serving the public as a Firefighter for over 35 years and will continue on as an adjunct professor of Fire Science at Miramar College.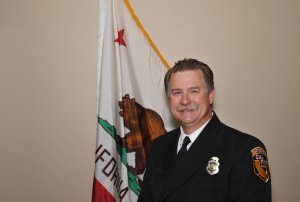 Kendal has provided breaking news updates and phone interviews en route to challenging scenes, working structure fires and threatening brush and wild fires.  He has visited FOX 5 on numerous occasions and provided Reporters and Photojournalists with life-saving media safety seminars and provided public demonstrations on-camera for fire season prevention stories.
Captain Kendal also turned heads as a guest in the back-lot as an avid Emerald Society Bagpiper that honors San Diego Firefighters and their families.
According to CAL FIRE, San Diego is the 4th largest media market in California, and the 28th largest in the nation.  Kendal's position demands constant communication with all San Diego media outlets which evolve and change as social media has transformed reporting and Bortisser consistently enhanced for the public's benefit.  His position gave a face to threatening wildfires that threatens the unique nature of living in Southern California in an historic drought.  Bortisser provided media and interagency fire authorities with in-studio and telephone interviews including national and world news media networks.
Fortunately CAL Fire afforded time to mentor and hand the reigns off to a well-qualified Issac Sanchez, the newly appointed Cal Fire PIO.
FOX 5 Thanks Kendal Bortisser and wishes him and his wife Shelly Bortisser for keeping the information and good media relationships flowing!
ENJOY RETIREMENT!