This is an archived article and the information in the article may be outdated. Please look at the time stamp on the story to see when it was last updated.
SAN DIEGO — The Cabrillo Bridge in Balboa Park is scheduled to reopen to motor vehicles Monday afternoon.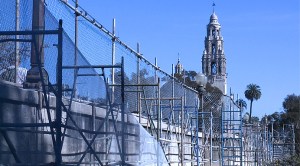 Mayor Kevin Faulconer and City Council President Todd Gloria have scheduled a 12:30 p.m. news conference on the landmark overpass of state Route 163, which has been closed to vehicles since the beginning of the year. The opening is scheduled to take place shortly thereafter.
The project by Caltrans to strengthen the bridge will continue through the fall, but traffic will now be allowed to cross the roadway and enter Balboa Park. It had been open only to pedestrians and bicyclists the past five months.
Workers are reinforcing the bridge's seven pedestals with an integrated mesh of steel reinforcements that will make it more resilient during an earthquake.
The bridge was first built for the 1915 Panama-California Exposition, the 100th. anniversary of which will be commemorated next year.