This is an archived article and the information in the article may be outdated. Please look at the time stamp on the story to see when it was last updated.
SAN DIEGO – The California Supreme Court ruled Monday that 
cities have the authority to ban medical marijuana dispensaries.  San Diego Mayor Bob Filner said he hopes San Diego won't travel that road.
In a 7-0 ruling in a case that involved the City of Riverside, the high court found that the Compassionate Use Act passed by voters in 1995 gave users
a limited protection against arrest, but did not bar cities from regulating
dispensaries.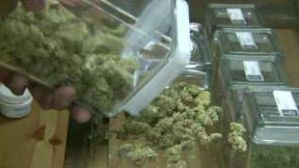 "I don't like it, but that's the ruling," Filner said. "I would hope that our city would move to regulated access."
For the first time in a long time, City Attorney Jan Goldsmith agreed.
"If someone who is seriously ill and in pain and wants to use it, I'm not going to say no or put you in jail for doing that," said Goldsmith.
But Goldsmith added the court's decision to uphold a city's right to ban or allow pot collectives and dispensaries vindicates his tough stance on prosecuting illegal operations.
"Now, we know we were right. What we were doing was enforcing the laws on zoning," Goldsmith said.
The city has been in legal limbo on the issue for years. The City Council wants to go back to a 2011 ordinance which allows dispensaries in some industrial zones, but the mayor proposed a less restrictive ordinance that would allow for the dispensaries in commercial and retail zones.
Monday's ruling however will clear the slate against lawsuits and give the city a fresh start on crafting an ordinance everyone agrees is needed.
"It's almost like a treadmill," said Goldsmith. "We've made some progress because we know the rights of cities but the next step is what about the federal law."
"We need an ordinance," said medicinal marijuana attorney Jessica McElfresh. "We need it now so that we stop debating these question and instead focus on getting places licensed and regulated."
McElfresh said the lack of city laws hurt everyone, but especially those who need it the most.
"There are statistics show having a well regulated dispensary – a store front where people can get their medicine – leads to far better quality life for people who are suffering and better and safer access," McElfresh said.
In January, Filner tried to force the city attorney to stop the prosecution of dispensaries while the city works on an agreeable ordinance but the council over-ruled him.
"We did that based on zoning laws," said Goldsmith. "It's an important decision because it clears the way for a clean city council decision for where they want to exist."