This is an archived article and the information in the article may be outdated. Please look at the time stamp on the story to see when it was last updated.
SAN DIEGO – Three of the major mayoral candidates hit the campaign trail Monday, speaking on a variety of issues, including affordable housing and public safety.
David Alvarez kicked off the week pushing for affordable housing. During a news conference he spoke of his experience growing up.
"As the son of a janitor and a fast food worker, I know what its like for a hard working family struggling month to month," said Alvarez.
Alvarez pushed for a proposal, heading before City Council Monday afternoon, that would charge commercial developers an extra fee that would fund more housing projects.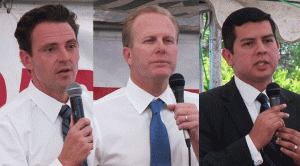 "We'll be able to increase the amount of affordable housing units built in the city by 80 to 100 per year," said Alvarez.
At the same time, Kevin Faulconer held a news conference to speak out against the proposal, which he calls a "jobs tax." Faulconer said it will amount to a "500-percent" tax hike for developers.
"What we should be doing is making sure that we're cutting tape and bureaucracy to create good paying middle class jobs," said Faulconer. "Not putting additional burdens on many of our small businesses that are trying to expand."
Council members ultimately voted in favor of the proposal by a vote of 5-4. San Diego's Municipal Code requires the City Council to update the amount of the Workforce Housing Offset annually.
Meanwhile, Nathan Fletcher held a news conference along Mission Bay to speak about a public safety issue. He was joined by a representative with San Diego lifeguards, who said they don't have enough boats or staffing.
"This is a perfect example where public safety's been compromised, because of a lack of focus a lack of attention, a lack of leadership," said Fletcher.
During the news conference, questions turned to Fletcher's personal life and a traffic ticket he received for making an illegal left turn. Fletcher made light of the question, while taking a jab at the San Diego Union-Tribune.
"I get attacked for going left quite frequently by the UT," said Fletcher. "I don't want them to miss the opportunity when I actually did something wrong going left. Usually when I go left I think it's the right thing to do."