This is an archived article and the information in the article may be outdated. Please look at the time stamp on the story to see when it was last updated.
SAN DIEGO – A statewide campaign against the growing problem of human trafficking is underway and soon some businesses will be required to do their part to help crackdown on this illegal activity.
Human trafficking is a $32-billion-a-year industry which enslaves it victims in prostitution and hard labor.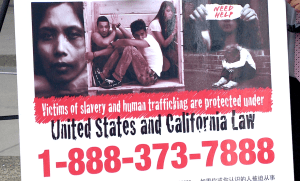 "Human trafficking involves being forced to engage in activities such as commercial sex, housework, farm work, construction, factory retail or restaurant work, in which the victim cannot leave the situation," said Todd Gloria, Interim Mayor of the City of San Diego.
The number of cases prosecuted in San Diego County alone has more than tripled in the past four years, according to Gloria
"The FBI has identified California as one of the nation's top four states for trafficking persons," said Gloria.
San Diego officials gathered Thursday to announce Senate Bill 1193.  This April it will require certain businesses such as bars, strip clubs, message establishments, bus stations and truck stops to post signs urging people to report human trafficking.
Texas began posting similar signs in 2007.  In a four year period, 20 percent of the human trafficking reported to authorities was the result of the posters.
Fifteen years ago, Autumn Burris escaped a life of prostitution, sexual assault, rape and domestic violence.
"I always thought it was my fault. I didn't think I was a victim," said Burris. "Those signs would have helped me to understand that it wasn't my fault and that I had a place to call and a way to exit."
Burris said these signs could make a huge difference in the life of someone who is being exploited.
"This poster will give them, and give the community, a place to call to get that help so they can begin to survive," said Burris.
Now, Burris spends her life helping other human trafficking victims. There's one thing she wants others to know about them.
"Understand that no one that is involved in prostitution, stripping, sex trafficking, or labor trafficking have other viable option," she said.