This is an archived article and the information in the article may be outdated. Please look at the time stamp on the story to see when it was last updated.
SAN DIEGO – Repair crews restored water service Wednesday the area a day after a 106-year-old cast iron pipe burst in Hillcrest.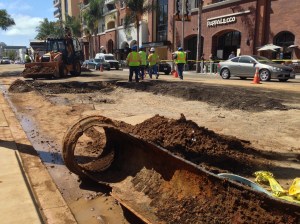 Crews worked throughout the day replacing the cast iron pipe with PVC in the 3600 block of Fifth Avenue. They also made major repairs to the roadway.
The water main break impacted more than 10 nearby businesses, including Huapangos Restaurant. Wednesday afternoon that business and several others still had not reopened.
"The water pipe, it blew and people were sitting on the patio," said Huapangos owner JT Taba. "In a second, the water came all the way to the patio and the folks, they stood up and they ran away."
Some business owners, like Taba, were left wondering who would foot the bill for damage.
"Nobody told me what to do," said Taba. "I don't know what to do."
A spokesperson for Interim Mayor Todd Gloria said a staff member was out in the community Wednesday letting business owners know how to file a claim with the city. The claim forms are also available online. According to the Risk Management Department, claims are usually processed and investigated in approximately 45 days.
Gloria plans to bring forward an infrastructure bond proposal this winter for at least $100 million to continue addressing the infrastructure backlog.
A city official said there is currently between 90 to 100 miles of cast iron pipes still in the ground in San Diego.