This is an archived article and the information in the article may be outdated. Please look at the time stamp on the story to see when it was last updated.
SAN DIEGO - San Diegans marched to city hall to hand over 5,000 petitions calling for rent control and 200 code compliance complaints against slumlords.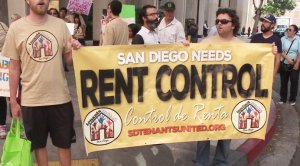 Renters and activists gathered at 4th and Broadway in downtown San Diego Thursday afternoon. They said they were fed up with slumlords and were demanding action.
This rally is part of a national day of action, calling for a freeze on all rent increases and a national livable rent standard to keep rents to 30 percent of a families' income.
"Moms shouldn't have to work two jobs and dads shouldn't have to work two jobs to put food on the table and clothes on their kids," Sandra Olave, who is in favor of rent control, told FOX 5.
Activists are also demanding a freeze on unjust evictions without cause.