This is an archived article and the information in the article may be outdated. Please look at the time stamp on the story to see when it was last updated.
SAN DIEGO – Little Italy is getting ready for a makeover with the addition of the "Piazza Famiglia," a 10,000-square-foot public piazza to serve the Little Italy community.
The Little Italy Association, in partnership with H.G Fenton Company, is transforming West Date Street, between Columbia Street and India Street, into a mixed-use development including shops, restaurants, and residences.
"Famiglia, it means family," said Lou Palestini, who grew up around the corner from the future piazza. "We would sit on the corner over there and just mesmerize on how nice it would be someday to have this street closed and have a big plaza. Low and be hold with the Fenton family and the City Council we will have something we dreamt about for years."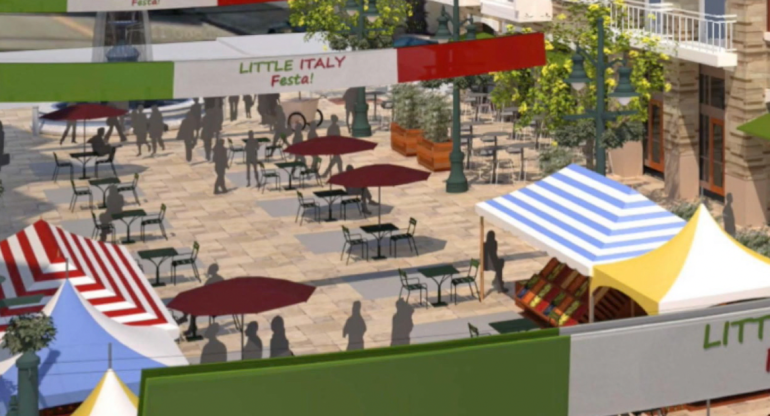 This public space will feature classic Italian architectural details and design inspired by the grand piazzas of Italy and Europe. Eventually, the European-style piazza will become the new "heart" of Little Italy and a central community gathering space to host farmers' markets, concerts and cultural events.
"I moved in to Little Italy 12 years old and its just evolving and its evolved into a world class neighborhood where people around the country look to see what the next step," said John Capizzi, a Little Italy resident.
Developers broke ground Monday morning alongside Mayor Kevin Faulconer and City Council President Todd Gloria. The ceremony included an old Italian tradition where a priest blessed the property.
Developers plan to add 55 parking spaces underneath the piazza but some locals worry it wont be enough to combat the additional congestion.
"There are plenty of places in San Diego where it's easy to park but you wouldn't want to go to. In every great city of the world parking is a challenge," said Marco Limandri, Chief Executive Officer of the Little Italy Association.
The project will cost developers $2 million and is expected to open by Christmas 2016.