This is an archived article and the information in the article may be outdated. Please look at the time stamp on the story to see when it was last updated.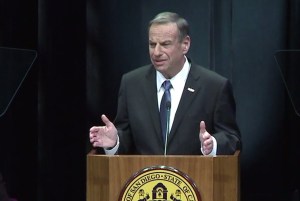 SAN DIEGO — The trade organization for San Diego's life sciences industry Monday made the latest call for Mayor Bob Filner to resign over allegations that he made numerous unwanted sexual advances toward women.
The Board of Directors of Biocom unanimously voted to lend its name to the chorus of calls for the mayor to step down.
"The allegations against the mayor are very grave, and while there will be a time and place for him to receive the due process he has called for, there also comes a point where civic paralysis can no longer be tolerated," said Bicom Chairwoman Magda Marquet. "We are well beyond that point already."
Business leaders generally sat out the first couple of weeks of the scandal. More recently, the San Diego Regional Chamber of Commerce, San Diego Port Tenants Association and Business Leadership Alliance have called for Filner's resignation, citing the impact of negative publicity on the local business climate.
Joe Panetta, president and CEO of Biocom, said Filner's behavior around women is unacceptable in a professional setting and civilized society.
"Nothing even vaguely resembling this level of behavior would ever be tolerated in the private sector," Panetta said.
"At a time when the life science community in San Diego has enjoyed unprecedented success, the city of San Diego itself has effectively become a punchline, and the mayor's credibility has been damaged beyond the point of any reasonable expectation of rehabilitation," he said. "The community can no longer afford this distraction."
In its statement, Biocom's leaders recognized Filner's years of service to the community and said they hoped he would receive the treatment he needs.
"We believe, however, that in the best interests of all parties involved, the mayor should resign immediately so he can pursue such treatment with no other distractions," the statement reads.
Others on the board who voted in favor of calling for Filner's ouster included Jack Lief, of Arena Pharmaceuticals; James Schaeffer, of Merck Research Laboratories; and Mark Stevenson of Life Technologies.
Biocom is the largest regional life science association in the world, representing more than 550 member companies in Southern California.