This is an archived article and the information in the article may be outdated. Please look at the time stamp on the story to see when it was last updated.
SAN DIEGO – One of the busiest boat ramps in San Diego and the entire state of California is closing temporarily.
An estimated 50,000 launches take place each year at the Shelter Island ramp in San Diego Bay, but starting Tuesday at 7 a.m. the public will not be able to launch their boats from the site.
Since the end of May, fishermen, recreational boaters and tour captains and crews have had to share one lane.
"You feel rushed. You feel bad. You're holding everybody back, but we're down to one at a time," boater Jason Townsend said.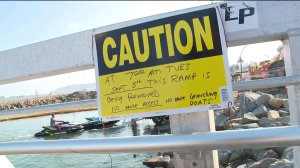 Nine lanes have been off limits due to an improvement project, but now the only people who will be able to access the ramp are those who take trips on the amphibious tour buses.
Those who frequently use the launch site know it is in need of repairs.
"You could see the ramp itself was actually starting to erode. The layout of it wasn't the greatest just for incoming and outgoing traffic," Sean Schaefer said.
Over the next several months, workers will be replacing the worn-out launch ramp, making the maneuvering area bigger and installing walking and viewing areas.
Those are only a few of the improvements included in the $9.5 million project.
"It's a huge project. It's long overdue. I'd say its 40 years overdue," said Captain Steve Blackman, with an amphibious tour bus company.
Boaters say the project has been an inconvenience, but most are more than willing to ride out the wait.
"It will definitely be worth it. Looks like it's going to be and amazing improvement," Schaefer said.
The project is expected to be complete in March 2018 and that is when the ramp will open back up to the public.
The Port of San Diego listed other launch sites boaters can use until the Shelter Island ramp improvement project is complete.