This is an archived article and the information in the article may be outdated. Please look at the time stamp on the story to see when it was last updated.
OCEANSIDE, Calif. – A city bus was stranded after getting stuck in a sinkhole in Oceanside Wednesday morning.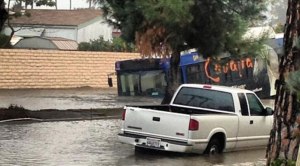 North County Transit District spokeswoman Deborah Castillo said one of their buses was stuck at Los Arbolitos Boulevard and El Camino Real around 8 a.m. Wednesday.
The driver, who was the only person on the bus at the time of the incident, was uninjured.
An Oceanside Water Department dispatcher said the sinkhole was caused by a water main break.
Around 400 residents were without water as crews worked.  Water was expected to be turned back by 10 p.m. Wednesday, water officials said.
Traffic was being diverted away from those streets.