This is an archived article and the information in the article may be outdated. Please look at the time stamp on the story to see when it was last updated.
(CNN) — A passenger bus turned over onto its roof early Saturday while traveling through southern Ohio, authorities said.
At least 34 people who were on board the bus were taken to hospitals, six of them by helicopter, said Butler County emergency management spokesman Jeff Galloway.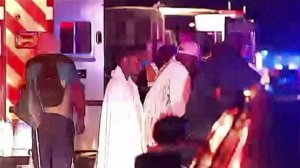 The bus was carrying 52 people, including the driver, when it overturned, Greyhound spokeswoman Kim Plaskett said.
The bus originated in Cincinnati and was heading to Detroit.
The cause of the accident is under investigation, both by police and the bus company itself, Plaskett said.
The driver, who was among the injured, has been with the company for almost 15 years and had been on duty for just one hour before the incident, the spokeswoman said.
The bus underwent an annual inspection 14 days ago and was cleared, Plaskett said.
Those passengers who were uninjured were transported back to Cincinnati.