This is an archived article and the information in the article may be outdated. Please look at the time stamp on the story to see when it was last updated.
CARLSBAD, Calif. — Residents who live along the areas burned in Carlsbad expressed their disappointment with the flow of people coming by to see the devastation left behind by the Poinsettia Fire.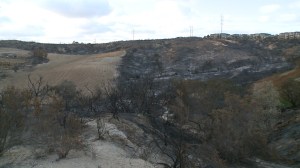 Some homeowners said they are fed up with people showing up for a closer look of the scorched landscape and destroyed homes.
One resident, who wanted to remain anonymous, called it "macabre and morbid."
Carlsbad Police Department can't do anything about it if the viewing is done from public property and if "no trespassing" signs are observed.
People are warned to stay off the damaged areas, saying it's dangerous and that walking in the burnt open space could further damage the habitat areas and hamper regrowth and restoration.