This is an archived article and the information in the article may be outdated. Please look at the time stamp on the story to see when it was last updated.
SAN DIEGO — Police Thursday released security camera images of a man they say burglarized four homes in the Rancho Bernardo area in a single day.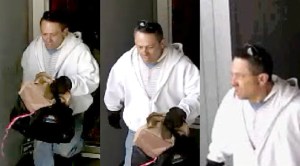 Detectives with the San Diego Police Department  said the burglaries took place in the 17000 block of Bernardo Center Drive on the morning of Feb. 6. In all four cases, no one was home at the time of the robberies.
The burglar appeared to be targeting jewelry, investigators said. He may have left the area on a motorcycle, they said.
A security camera at one of the homes recorded the burglar leaving the residence, police said.
San Diego Crime Stoppers is offering up to $1,000 for information leading to an arrest in the case. Anyone with information should contact SDPD detectives at 858-538-8000 or the Crime Stoppers anonymous tip line at 888-580-8477.