This is an archived article and the information in the article may be outdated. Please look at the time stamp on the story to see when it was last updated.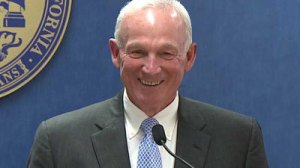 SAN DIEGO — Strike up the band, because happy days are here again, according to San Diego City Mayor Jerry Sanders, who announced a city budget surplus Thursday.
"Today, I'm pleased to report that the city's decades long budget deficit is history," said Sanders.
For the fiscal year ending June 30, 2012, the city is looking at a budget surplus projected to be around $16.5 million.
"It is no act of magic that our budget woes are now vanishing," said San Diego City Councilmember Todd Gloria.  "It is the result of hard work. It is the result of sacrifice and a collaborative effort that this is now happening."
The mayor and council leaders credit money saving reforms, sacrifice by city workers and revenue recovery for the surplus.
"We have had much better than anticipated sales tax and transient occupancy tax has been up," said Sanders.  "We don't know about property tax but we're hearing collections are better this year but we haven't factored any of that in."
As a result of the surplus, libraries will expand the time they are open by 4 hours a week.  Recreation centers will be open an additional 5 hours a week.  And the police department will hire additional officers.
"As for fire protection, we will also put in place a new fire station alert system," Sanders said.
Not all the money will be used, some will be set aside.
"We're saving over $8 million just in case we have holes open up in the 2012 budget," said Sanders.