This is an archived article and the information in the article may be outdated. Please look at the time stamp on the story to see when it was last updated.
SAN DIEGO – Several small blazes burned along brushy areas on Interstate 805 near National City during Thursday's evening commute, according to California Highway Patrol.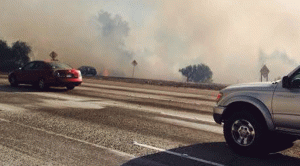 Firefighters quickly extinguished the fires alongside traffic lanes on Interstate 805, near Plaza Boulevard in National City and 43rd Street, CHP said.
Northbound and southbound traffic stopped for a short period of time.
There were no reports of structural threats.