This is an archived article and the information in the article may be outdated. Please look at the time stamp on the story to see when it was last updated.
LAKESIDE, Calif. — Three brush fires erupted in quick succession alongside a roughly 10-mile stretch of Interstate 8 in the East County Thursday, quickly blackening dozens of acres and threatening rural homes.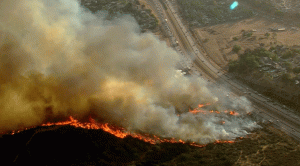 The fires began spreading shortly before 5:30 p.m. near Greenfield Drive, Los Coches Road and Dunbar Lane, according to Cal Fire. The flames moved up slopes through heavy vegetation, moving in the direction of some residences, said Cal Fire Capt. Mike Mohler.
Within 45 minutes, the blazes had scorched a total of about 30 acres. By then, ground crews and personnel aboard water-dropping helicopters and air tankers were making good progress in halting the flames, Mohler said.
"With this fire we had an aggressive air assault along with a ground attack and were able to contain the fire before it was any threat to structures," Cal Fire Battalion Chief Ray Chaney said.
California Highway Patrol officer told Fox5, investigators believe an arsonist may have set several areas on fire around 5 p.m.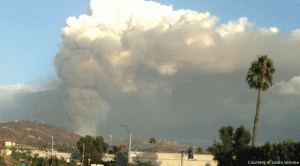 A witness said she was on her way to Walmart when she saw several "tiny flames" along I-8 and within minutes, a large black-plume of smoke was filling the air.
A home was evacuated as a precaution.
By 8 p.m., firefighters had stopped the flames from spreading. The fires blackened about 40 acres in total.