This is an archived article and the information in the article may be outdated. Please look at the time stamp on the story to see when it was last updated.
CUYAMACA, Calif. — A brush-clearing controlled burn in the East County highlands was postponed Tuesday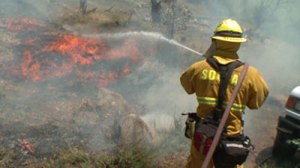 due to unfavorable weather, authorities reported.
Foggy conditions prompted Cal Fire to delay the 60-acre prescribed fire in the Fern Flat area of Cuyamaca Rancho State Park, since low clouds can trap smoke close to the ground, degrading air quality, said Mike Mohler, a captain with the state agency.
The operation, which had been slated to run from 8 a.m. to 5 p.m., was tentatively rescheduled for Wednesday, Mohler said