This is an archived article and the information in the article may be outdated. Please look at the time stamp on the story to see when it was last updated.
NEW YORK- First of all, I want to give the world's biggest thank you to Fox 5 photographer Sean Byrd, without whom none of these amazing stories and live reports would be possible.
In his stylish puffer jacket and plaid lumberjack hat, Byrdman carried camera equipment from Central Park to Times Square, editing at lightning speed and put up with my frenetic pace as Day 4 of Super Bowl week hit break neck speed. Thanks B!
My Thursday started with a live report for the Fox 5 morning show from Radio Row. We had some fun with The Hangover's Mike Epps and I got an up close look at his friend's Superbowl Championship ring. Bling bling! Fox 5 reporter Chris Biele and I also got to know a videographer from Minneapolis named "Slick." We were fast friends.
The day became somewhat of a blur after that, as Byrd jetted off to hear from Bruno Mars at Lincoln Center. Then, we were off to dig up details about Richard Sherman dissing Peyton Manning's passing game. Oh, the drama never ends here in Super Bowl central.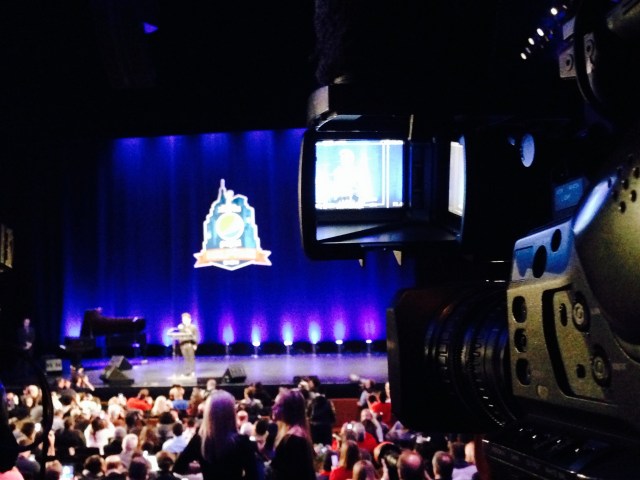 Between editing and setting up for the nightly news reports, my New York friend took me for a real New York slice at Bella Napoli on 49th and 7th Avenues. It was seriously the best pizza I have ever had.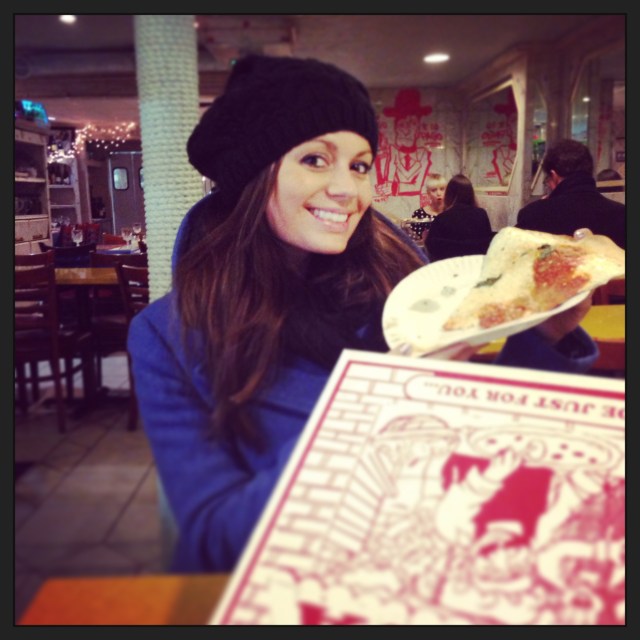 I ordered something called "The Grandma," since that has fast become my nickname here, considering I have yet to make it out to a Super Bowl party, opting for a good six hours of sleep.
We wrapped the night from Times Square, where some Denver fans sang along with me in honor of Bruno Mars, and Ladanian Tomlinson looked down from his NFL Network tower just above us.
In a surprise twist, we ran into Richard Sherman's mom! She joined us on the 6 o'clock news and had just arrived in the Big Apple with her family and friends. She was looking for more "12s," the term Seahawk fans have adopted as their nickname. She turned into Mama Bear when I mentioned her son's outspoken behavior, which is completely understandable. I must say, Miss Beverly Sherman is a wonderful lady and is very proud of her son!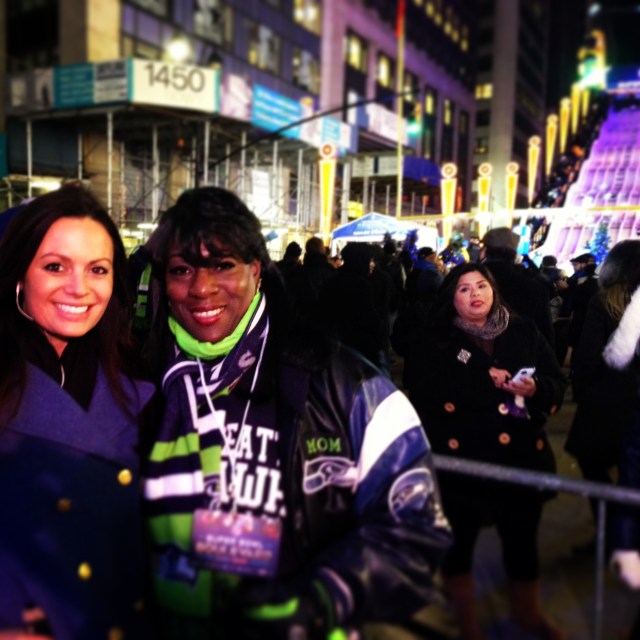 That wraps up Day 4, another early day tomorrow as Byrd and I head to the Upper West Side to hear from Pete Carroll, John Fox and Roger Goodell. Night!!