This is an archived article and the information in the article may be outdated. Please look at the time stamp on the story to see when it was last updated.
SAN DIEGO — Police closed a street near Lindbergh Field Wednesday after an underground water line ruptured and flooded traffic lanes.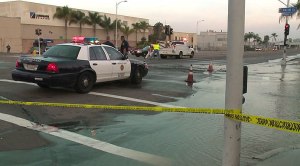 The flooding was reported at about 5:10 a.m. near the intersection of Pacific Highway and West Palm Street, water department officials said. A city crew shut off water to the line at about 7 a.m.
Meanwhile, police closed West Palm Street between Pacific Highway and Kettner Boulevard as well as two lanes of northbound Pacific Highway just before West Palm.
By 8 a.m., city crews had brought in heavy equipment. They said it would take several hours to down to the pipe and replace the broken section. There was no estimate on when water service would be restored to the area or when West Palm Street would reopen to traffic.