This is an archived article and the information in the article may be outdated. Please look at the time stamp on the story to see when it was last updated.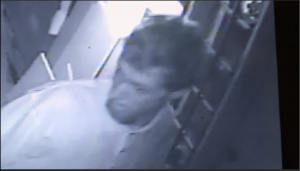 PACIFIC BEACH, Calif. – San Diego Police are searching for a man who broke into two Crown Point homes early Friday morning.  The entire crime was caught on surveillance camera.  The homeowner shared the video with Fox 5 in hopes of capturing the home invader.
"Around midnight, I heard a clank in the back room and I figured maybe a tool had fallen over or something," said Jon Demaria, homeowner.
Jon, who had just gone to bed, went to check and found the sliding glass door open.
"I closed the door and didn't think much of it.  I was half a sleep," said Demaria.  "This morning, I got up and realized all my tools were missing."
About $1000 worth of tools were stolen.  Demaria immediately checked his security camera system.
"What I found was a male suspect trying to enter my front door," said the homeowner.  "I know what he looks like.  I mean, his hair, clothing, his belt, even his shoes."
The video shows a young man arriving on a bicycle, and then walking onto Demaria's porch.  The man tries the door, gives up and then walks towards the back of the house.
"To be as brazen as to enter into someone's front door and into their house like that is really scary," said Jon.
The thief also tried to break into the home next door.
"I noticed this gate was wide open," said Jean, Jon's next-door neighbor.
She was sound asleep as the thief rummaged through her garage.
"I was right up above and I didn't hear a thing," said Jean.  "They didn't get much from me, a belt sander and maybe a clipper."
Jon is sharing the images in hopes that someone will recognize the intruder, but thanks to his dog Chloe, investigators have more than video to work with.
"When she heard the noise, she sprang up. She ran to the back of the house and started barking," said Jon.
When Chloe scared off the suspect, he left his bolt cutter behind.  That tool is now in the hands of investigators who are looking for DNA and fingerprints.
"Every body would joke this is worst guard dog," laughed Jon.  "Guess she proved them wrong."
San Diego Police are actively investigating the crimes.  If you know any information, you are asked to call Crimestoppers at 1-888-580-8477.