This is an archived article and the information in the article may be outdated. Please look at the time stamp on the story to see when it was last updated.
RANCHO SAN DIEGO — A 3-year-old boy was taken to a hospital in critical condition after he fell into a pool Sunday afternoon, according to authorities.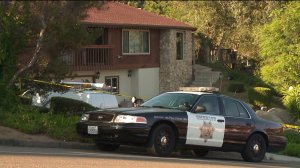 San Diego County Sheriff's deputies got a call around 2:30 p.m. that the child had gone into a backyard pool at a home on Hidden Mesa Road, said Lt. Dave Schaller.
First responders found the boy in critical condition and rushed him to Sharp Grossmont.
Deputies said the boy's family was visiting from Arizona to attend a party at the home and that both parents were at the home when the little boy wandered into the pool.
"That's a shame.  Of course, pool safety has always been a concern around here.  Just about everyone's got a pool.  We all worry about that," said a neighbor.
Some neighbors said they heard partying at the home late Saturday night.