This is an archived article and the information in the article may be outdated. Please look at the time stamp on the story to see when it was last updated.
SAN DIEGO – A 12-year-old boy with a big heart is giving up his Christmas presents this holiday season to help man's best friend.
For the past two weeks, Kaden Rutherford of Carlsbad went to thrift shop after thrift shop collecting as many blankets as he could.  He spent his allowance money on comfortable blankets to help keep hundreds of pooches warm this winter.
"Some of these blankets are really soft," said Rutherford.  "We are dropping off a 110 blankets today."
He got the idea two months ago.  Rutherford lost his beloved dog, a 1-year-old black-and-white Shih Tzu named Suki.
"We had some friends dog-sitting, and she put her in the back yard, and 10 minutes later she wasn't back there anymore," said Rutherford.
Rutherford and his mom searched everyday but Suki was never found.  It wasn't until he searched one of the Humane Society's, Rutherford noticed something he didn't like.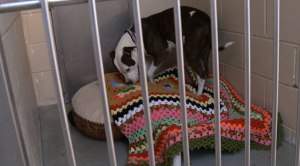 "I would notice that the dogs wouldn't share the blankets so they would sleep on the concrete," said he.  "I asked my mom if I could buy some blanket,s and that's when I took all my money out of my safe and my big crayon full of money."
As of Tuesday, Rutherford has spent around $500 on blankets for the pooches.
"It makes me proud of him that he has compassion for animals at the Humane Society that don't have homes," said his mother Kedda Rutherford.
Humane Society and SPCA Director Michelle Quigley said this is the first time a young boy has shown such generosity.
"We were all in tears when we were talking about it in our staff meeting," said Quigley.  "This will really allow for the extra comfort.  The dogs have access to inside heat but this really will provide the extra comfort and it will feel like home."
As for Rutherford, he plans to raise enough money over the holidays so every dog has a warm blanket.
"We aren't the only ones that need to be warm over the winter, the dogs needs to be warm and hopefully they will find a new home," said Rutherford.
To help Rutherford, donated blankets can be dropped off at either Ranch and Sea Realty location:
2963 Carlsbad Boulevard  Carlsbad, CA 92008
316 Mission Avenue  Oceanside, CA 92054