This is an archived article and the information in the article may be outdated. Please look at the time stamp on the story to see when it was last updated.
SAN DIEGO — A Chula Vista High School student who lost a leg to so-called flesh-eating bacteria is in good condition and getting close to going home after more than two months at Rady Children's Hospital.
Giancarlo Gil, 14, began feeling sick Sept. 19, and doctors later had to amputate his right leg up to his hip to stem the spread of necrotizing fasciitis. He underwent 11 surgeries and was listed in critical condition until late last month, according to the hospital.
His mother spoke to the media Tuesday to thank well-wishers in the community, including many who donated blood.
"It's amazing how we were overwhelmed with the love and support of family and friends," Silvia Gil said.
A GoFundMe page for Giancarlo had raised nearly $24,000 through late-afternoon Tuesday, with more than 400 people making donations.
According to the U.S. Centers for Disease Control and Prevention, necrotizing fasciitis spreads quickly and kills the body's soft tissue. Accurate diagnosis, prompt treatment with intravenously administered antibiotics and surgery are important to stopping the bacterial skin infection, which can become life-threatening in a very short amount of time.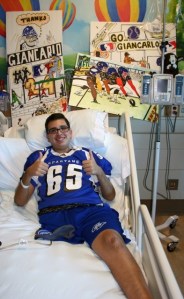 The occurrence of the disease is rare, even though it can be caused by several types of bacteria. Healthy people with strong immune systems can usually avoid the disease by practicing good hygiene and proper wound care.
Bacteria found on the skin can lead to necrotizing fasciitis, if wounds aren't cleansed, according to Dr. Wilma Wooten, the county's public health officer.
Since 2010, 124 cases of necrotizing fasciitis have been reported in San Diego County, she said. Of those patients, only three have been under the age of 17, according to Wooten, who said many of the others had an underlying medical condition that weakened their immune system.
People who get any kind of injury that breaks the skin — even as simple as a paper cut, blister or scrape — should see a doctor if the wound gets warm and/or oozes, she said.